---
Participants' Feedback Proves 2011 Youth Leadership Derby Is a Success.
Participants' Feedback Proves 2011 Youth Leadership Derby Is a Success.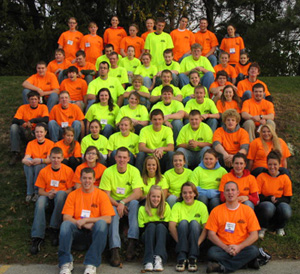 For twenty-four hours on November 5-6, 55 teens from across the state had the opportunity to learn more about their future in the dairy industry and build new leadership skills at the Youth Leadership Derby in Ripon.
At this year's Derby, teens visited the Waupun Veterinary Clinic, Pollack-Vu Dairy, windmills at the Invenergy station and Kelly's Country Creamery. The teens enjoyed the tours, as you can tell by
their comments and photos
.
As well as a tour, students were able to see and learn about the innovations in technology at each of the stops. One of the chaperones who went on the tours with the teens, FFA Advisor Jeff Meske, commented, "You couldn't find a better way to relate technology and the business side of dairying in Wisconsin to our young leaders."
Read more about Meske's experience here
.
Teens also developed a brand and label for a fictitious product, and learned tips and tricks to telling the real story about the dairy industry via social media. More hands-on lessons came during Dr. Fricke's talk, "Rolling Through the Repro Tract."
Before the night's lock-in, Derby participants also had some time with a panel of college students who majored in dairy science. The mentors told the teens how they prepared for college, their educational pathways to their careers in the dairy industry and why and how they selected their college major. The next morning, Wendy Naarup got the teens motivated by telling them about her path to the 2007 Ironman Wisconsin competition. Naarup won the competitions and went on to compete in the 2008 Ironman World Championships in Hawaii.
The Youth Leadership Derby is sponsored by the Professional Dairy Producers of Wisconsin and is made possible by the Professional Dairy Producers Foundation, Culvers, East Central/Select Sires, Family Dairies, Invenergy, Landmark Services Cooperative and Ripon FFA Alumni.