---
Dana Cook When Two Sets of Values Align
Dana Cook When Two Sets of Values Align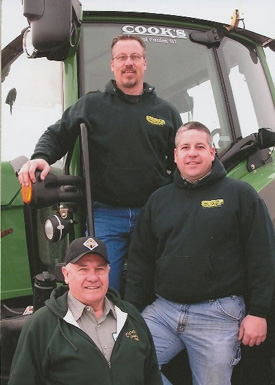 "Our state was pretty much built by dairy," says Dana Cook. "And if we can continue to build our industry, then we all benefit."
Dana Cook, owner of Cook's Countryside Trucking, LLC, doesn't say anything that he doesn't mean, and he stands by what he says. So when he says a bold statement like that above, he stands by it.
He does that by making regular donations to the Professional Dairy Producers Foundation (PDPF), which he sees as the perfect benefit to himself, his industry and everyone associated with it.
"
If we can help the younger generation, if we can give more information to dairymen and women who need it, the better off we'll be. And if I can help, I am more than willing."
Those two motivations for Dana's giving completely align with the values of the foundation he supports: people. Family. Education.
Dana's family has been a part of the dairy industry since 1934. First as owners of a cheese factory, as dairy producers and now as owners of Cook's Countryside Trucking, his grandfather, father, uncle, brother, sisters and brother-in-law have been involved in all aspects of the dairy industry. He milked cows with his family until 2000, and his father co-owned a cheese factory until 1986. His uncle still runs Car Valley Cheese, and his brother-in-law runs a farm in Dane County. Dana, his father and brother run the trucking business, and they have a very simple motto.
"We do it all, and we do it correctly," Cook says.
Far from the six vehicles they started their business with in 1998, the Cooks now own more than 30 pieces of machinery and trucks. As their fleet has grown, so has their territory. They now custom haul manure and freight in all of Wisconsin, southeast Minnesota, northern Illinois and northeast Iowa.
Education has been the key to the latter part of their company motto. Dana was one of the founding members of the Professional Nutrient Applicators Association, and has served as president and Board Member since its start in 2001. He truly believes that if you educate yourself, and those around you, everyone sees a benefit.
He believes that education will be the key to the current dairy industry, as well as to the success of the next generation of dairymen and women. As father of three daughters, all of whom have been on the farm since they could stand, Dana wants to give the next generation the same educational resources that made him successful.
"It's up to them to build this industry. The foundation is an opportunity to give back, to help with education and to build the next generation."